Fundraising takes time and it is a lot of work!
Organizing a fundraiser is no simple task. You need to find sponsors, recruit volunteers, arrange a location/activities, spread the word about the fundraiser and hope the weather cooperates. The list is endless and ticking off each item requires multiple hours of volunteer work.   Overall, fundraising takes time and it is a lot of work!
What if you could do away with 80% of your fundraisers?
Over 76% of schools in the US have 5 or more fundraisers/year. With this flood of fundraisers, it is not surprising that parents have become weary of these PTA organized events.   This problem gets worse since more fundraisers mean more time is required from the PTA volunteers. This is not a good outcome for the parents or the PTA.
Clearly, the standard fundraisers are not working!
Below is a list of 3 easy-to-implement 'hacks' that can significantly boost fundraising for your PTA and at the same time reducing the volunteer workload. 
Compile a mobile directory and give that away to parents in exchange for membership dues
Parents are BUSY
Managing school and after-school activities can be time-consuming
Parents can use some HELP
Provide parents with a mobile directory with school info at their fingertips
Invaluable convenience for the parent
A lifeline to schools
Recruit local vendors to advertise on the mobile directory
Parents are a highly sought after target by vendors.   The private and secure mobile directory used by school parents provides an ideal platform for local vendors who wish to support their local schools and at the same time promote their business.
In contrast to print advertising, vendors will be provided comprehensive analytics that will include a number of impressions (views) and click-through rates enabling the vendor to assess the effectiveness of the mobile media ad campaign.
Hold school fundraisers online using eCommerce platform built specifically for schools
Fundraisers require a big investment of time and effort.
Example: Family fun day or night when you have all of the families in the school on a Friday night or a Saturday.
Need to arrange games, food stalls, volunteers to run the game booths and the food stalls
Takes months to organize a family fun day!!!
Adopt an eCommerce platform for your school PTA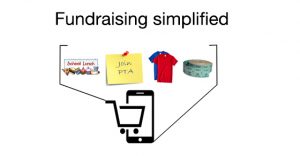 Switch to a plug and play eCommerce platform that is specifically adapted for schools. With an online store set up on the eCommerce platform, PTAs can start selling spirit wear, e.g. T-shirts or tickets to a school play or pancake breakfast in minutes.
After setting up the online stores, parents are notified about the online stores and the items to be sold.   Parents can view these 'on sale' items and purchase them and contribute to the fundraisers from the comfort of their home or right from their work.
Money collected through the online payment system, with every transaction being recorded and tabled represents a major benefit to the PTA/PTO treasurer. A complete accounting of the transactions and the money raised by the eCommerce platform can be accessed with a single click
Frequently asked questions when choosing a stand-alone or an integrated eCommerce platform (with an online directory)
What is an eCommerce platform for Schools?
An eCommerce platform enables schools to take their fundraising online that requires no setup, built. It is simple because you can item for sale online that parents can view and purchase. Parents shop at their convenience with all the proceeds going to your organization!
What percentage of each purchase goes to my school?
PTA keeps all the money earned from the sale of the items displayed online.  If the eCommerce platform is linked to a payment processing system such as 'PayPal', then expect to pay for 2 to 3% as transactions costs.
How do I tell my school about the program?
The easiest way to tell friends, family and other parents at your school about the eCommerce platform for Schools is to share your school's fundraising page. There are easy to use Invite buttons on the page that will let you email contacts directly or send yourself an email that you can edit and forward to your address book.
You should also be able to invite friends via Facebook to participate in your school's a school fundraiser.
How can I see how my fundraiser is doing?
Through your fundraiser page, you should be able to track your school's total earnings.
Is it safe to give online? 
Absolutely!   Many online donation forms maintain strict PCI compliance. This means that they follow Payment Card Industry Data Security Standards (PCI DSS) and keep your data secure and safe.
Most donation forms will include security logos on their donation form to ensure donors that their personal information doesn't end up in the wrong hands.
Online giving is quickly becoming one of the easiest ways to donate to a nonprofit. Rest assured that your credit card and personal data is safe by giving on a secure donation form that follows PCI standards.