The Private and Secure School Directory App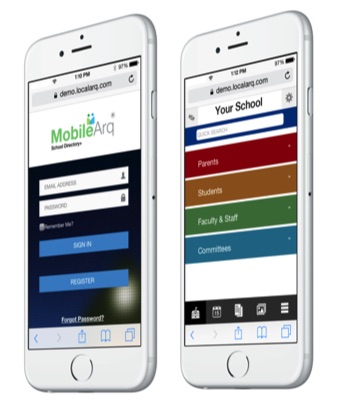 MobileArq School Directory+ is an integrated software solution for the PTA/PTO and the school parents.
Benefits for the PTA/PTO:
Easy directory production & management
Save hundreds of hours of volunteer time and money
Group Communication platform
Connect with your school community through emails and newsletters
E-commerce platform for all your fundraising needs
Support students activities with fundraisers setup and managed online
Benefits for Parents – the school directory app:
Your school at your fingertips
Get the directory app on your phone; accessible anywhere and anytime
Private and secure network
Not Googleable
Connect with other parents and school teachers/staff
Call/email/text with one touch
Adopting MobileArq school directory software has enabled the PTAs/PTOs to efficiently and rapidly compile school directories that can be accessed by the parents and the school community.  The MobileArq solution has saved PTAs/PTOs hundreds of hours of their time as well as money and helped them raise several hundred thousand dollars.
Please contact us to get a demo link to the school directory software to try out.  Following is a product video that illustrates the use of a mobile directory in a specific situation. However, this is only one of innumerable events in our day-to-day busy lives, when a mobile directory would be very helpful to parents on the road.