MobileArq Receives National Recognition as a 2018 American Small Business Champion by SCORE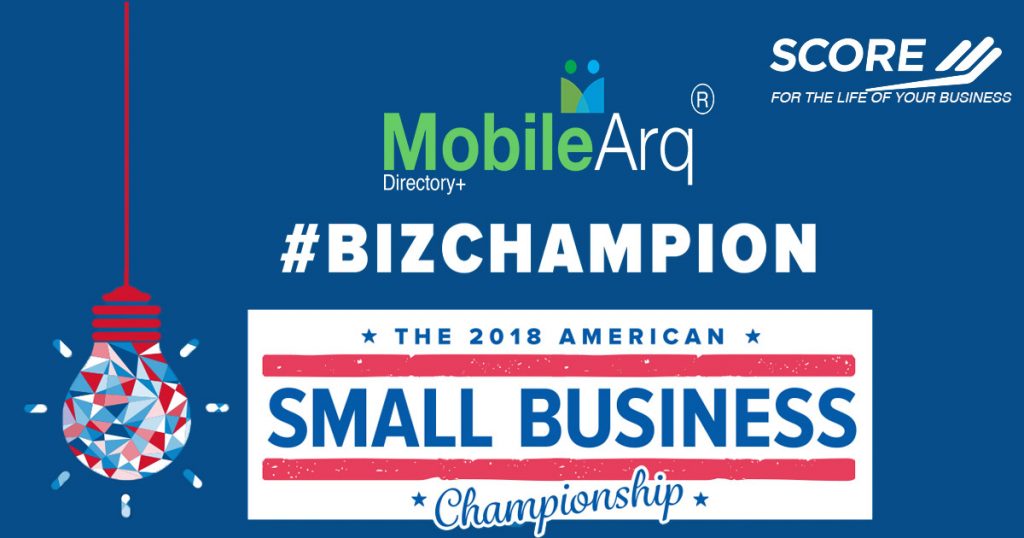 Summit, NJ-based MobileArq, https://mobilearq.com/, a provider of communication and fundraising platform for K-12 schools, has been named a winner of the 2018 American Small Business Championship by SCORE, the nation's largest network of volunteer, expert business mentors. The Championship awarded this title to 102 entrepreneurs for their dedication to the success of their small businesses, awarding them an all-expense-paid trip to a training and networking event, SCORE mentoring and publicity throughout the year, and a chance to win one of three $15,000 grand prizes, made possible with the support of Sam's Club.
MobileArq earned the title of American Small Business Champion by submitting an online application describing what makes their business one of the best small businesses in their community, and how they plan to use the prizes to grow their business. Over 75 schools, 26 school districts use the MobileArq platform for communication and fundraising. As of today, parents have sent out 800,000+ messages and parent organizations in schools, e.g., the parent teacher association (PTA), have raised over $860,000 with the MobileArq platform. School districts have used MobileArq since it was founded, for 5 years in a row, illustrating its value as a critical communication link for the K-12 school parents.
"We are so grateful to receive this recognition for helping to build better-connected school communities one school at a time'. Thank you to all our schools and the PTA/PTO leaders for supporting us and helping us succeed. This would not have been possible without you," says Nirupama Mallavarupu, founder and CEO of MobileArq.
Any information within the MobileArq school directory can be accessed with a maximum of two clicks. "We make it easier for all the users to find the information that you are looking for as quickly and effortlessly as possible. This 'user experience' is why over 70,000 parents and teachers parents are currently using MobileArq", says Nirupama Mallavarupu.   For the parent organizations, the differentiating factor for MobileArq is its expertise in database security and privacy. The need for secure databases and information privacy has been highlighted by the recent revelations of Facebook users' breach of data privacy, see https://mobilearq.com/data-security-does-not-mean-data-privacy/
Nirupama also provides her IT expertise and know-how to the City of Summit through her volunteer role as the Technology Advisor in the city council. Nirupama has been active in this volunteer role for the last 3 years advising the City of Summit on a variety of technology-related issues. MobileArq is also mentors students interested in pursuing career in Information Technology by providing summer internship to high school, e.g., Chatham High School, Union County Vocational-Technical Schools (UCVTS), including the Academy for Information Technology and the Magnet High School, as well as college students, e.g., New Jersey Institute for Technology (NJIT).
MobileArq has received strong support from Summit residents and entrepreneurs. We want to especially thank Ms. Annette Dwyer of MONDO Summit, for her encouragement and support. Annette's support has been vital in helping MobileArq with its mission to teach software and hardware fundamentals to middle and high school students as well as local entrepreneurs. MobileArq strongly believes in promoting local business and hiring local business. Graphics and printing services, as well as business consultants, are all recruited from the local area.
SCORE congratulates and celebrates these 102 American Small Business Champions, who represent some of the best small businesses in America," said SCORE CEO Ken Yancey. "We are proud to reward these passionate and hardworking entrepreneurs with business mentoring, publicity and additional networking and training opportunities, and we look forward to watching them utilize these tools to further grow their business success."
To learn more about The American Small Business Championship and to view the complete list of Champions, visit www.championship.score.org.
About SCORE
Since 1964, SCORE has helped more than 10 million aspiring entrepreneurs. Each year, SCORE's 10,000 volunteer business experts provide 450,000+ free small business mentoring sessions, workshops and educational services to clients in 300 chapters nationwide. In 2017, SCORE volunteers provided 3.6+ million hours to help create more than 54,000 small businesses and 116,000 full-time, part-time, owner and contractor jobs.
For more information about starting or operating a small business, visit SCORE.  Follow @SCOREMentors on Facebook and Twitter for the latest small business news and updates.